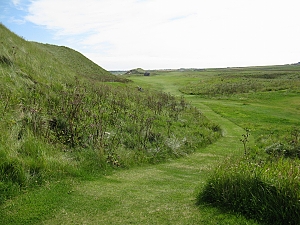 An ancient links course, although only parts of it are actually linksland. It wasn't staked out on the best land available, which would be the dunes sitting between the golf course and the sea. Perhaps expenses would have been too high, so the original architects chose the flatter plot inland. It's still a traditional out & back routing and a bit of the dunesland does come into play on the back 9.

Most holes are rather straightforward, there's a fairway to hit and rough to gobble up errant shots. The bunkering is sparse, although some revetted specimens have been sighted. There is not much movement in most fairways and they do not play particularly firm, so there's not much of a ground game to be had. The green complexes, quite simplish with one or two exceptions, aren't adding much interest either.

What the course has going for it is its remoteness and unadulterated naturalness. The golf itself isn't very sophisticated, but the total experience can be very rewarding. For sure nothing much has changed since 1870 and as such this course is a rare holdover from a time where golf really was from the people, for the people. Plus, there are 18 holes, not just 9.