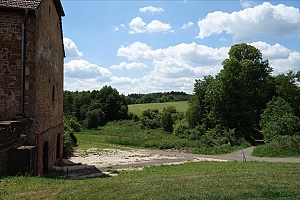 This is one of those courses that seem a bit inconsistent at first, but that do leave a lingering impression and over time can grow on you. The front 9 start and end on a rather mundane note, but in-between are a couple of really fun holes. Where it gets positively exciting is on the back 9, where every hole is really quirky and the stretch from 13 on home is an absolute cracker. Never mind that holes 15, 16 and 17 all have non-trivial forced carries off the tee and that 18 is prohibitively narrow and totally blind. It's where champions are made and with the right strategy and execution all of those holes can yield a low score, too.

The terrain is fairly wavy, but never laboriously steep. Many green complexes are raised and have some interesting short game options around, but the putting surfaces themselves are rather dull. However, the routing is certainly a strong point, which is not a given on such a difficult site. The holes connect really well and meander through the landscape without ever turning in on themselves. There's even a relief hole in-between, which could be incorporated really well to make a 19 hole course. The only noticeable stroll is to the tee of the par 3 15th hole, but most members will just leave their bag at the green and walk up with their club of choice.

Conditioning is certainly rustic, but that seems completely appropriate. There are no issues with drainage on such an undulated site and somehow the nines were made to return. So there's no reason for the members to not enjoy their golf there except perhaps for those, who like to employ their putting skills to get an edge over their opponent.