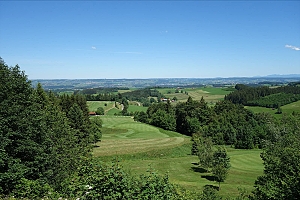 Even though this course is not strictly in the mountains, but more in the foothills, the topography and the elevation is that of a real Alpine course. It seems like a small wonder that three 9 hole loops that all return to the clubhouse could be built on such a severe site. There isn't even room for a regulation-sized parking lot and the winding access road is a veritable single-tracker.

The A and B loops, which make up the original golf course, are relatively short, but so undulated that it still takes considerable time to navigate them. There are some great stretches, for example the one leading up to the signature hole (A2-A5), which boasts Germany's highest tee and is an attraction for all visitors. But then there are a few completely ridiculous holes in-between and some very questionable connections. That notwithstanding, a number of unusual holes are well worth playing and a good score is always possible.

The newer C loop is different in character. It was laid out by the head professional and he probably has the abilities to enjoy this track thoroughly. For average golfers it is just too long and difficult. The fairways aren't as steep as on most of the older holes, but that has been achieved by relegating the steepness to the connections. This turns the C loop into a very tough walk as well.

The soil isn't sandy, but it drains reasonably well due to the natural slopes. While there isn't a particularly pronounced ground game, it does exist to a point, although probably not as a purposeful design feature. The green complexes are for the most part not very imaginative and the putting surfaces themselves too bumpy. A manicured presentation would certainly be out of character for this raw and natural tract of land, but rustic conditioning can only go so far before turning from an asset into a liability. Overall it's the quirk and the scenery that have to carry the day and they do manage to create a memorable experience.