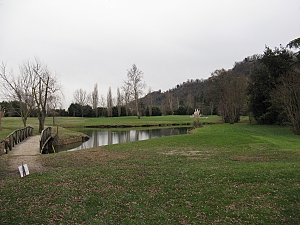 This is a short 9 holer affiliated with the Terme di Galzignano holiday resort, but open to other visitors as well. The loop is made up of two par 4s, one par 5 and six par 3s. Clearly, some thought went into the design, but at the end of the day the layout is too conventional to excite the better player and too penal for the rank beginner.

Four of the nine tee shots are forced carries over a pond or a ditch with no room to bail out whatsoever. On the other hand the water hazards are too far from the greens they are supposed to protect or too close to the tees to make even average players think twice about them. The thinking behind "hard double bogey, easy bogey, easy par" remains unclear.

Other than that it's a nice parkland layout with ok greens and done with some attention to detail. With the exception of the very moist #7 the track is playable throughout the year. However, there are better courses in the area, so apart from hotel guests looking for a quick 9 the audience seems to be limited.