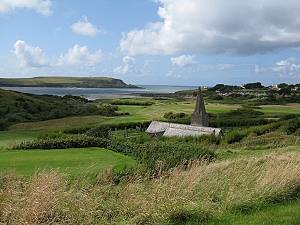 The Church Course has been described as quixotic, exciting, penal, beautiful, awkward, memorable and terribly difficult. It could be one of the absolute greatest courses in the world, if it were a little less severe and had proper links holes in place of the current 13th and 14th (the 12th actually works quite well as a heathland hole).

The course record after a century of play is 4 under par, so players not on top of their games will struggle. However, the sheer natural beauty of the terrain goes a long way towards relaxing the jerkiest of swings sooner or later. The course cannot be overpowered, but it is possible to flow with it. Scoring is complicated not only by the twisted landforms, but also by the rather speedy greens that have a good amount of internal movement. The golfer is likely to encounter a number of thought provoking short game problems not often seen on other courses.

The long game challenges are not far behind. Due to the extremely high dunes St. Enodoc is certainly one of the most undulated links courses in the world and many of the firm and fast playing fairways are veritable washboards. Where the layout really shines, however, is variety. With the exception of the three inland holes around the ancient St. Enodoc church, which are a bit out of character, every hole is a unique proposition waiting to be conquered on the 2nd, 3rd or 10th try.

There is another, shorter 18 hole course on the site, which is called Holywell Course.