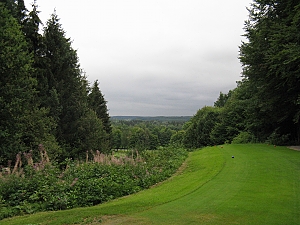 This is an excellent course that all Donald Harradine connoisseurs will truly enjoy. It starts with a short par 4 that will mercilessly expose any first tee nerves and the second tee box looks just as incredibly difficult - unless you go to the forward tee and peek down into the valley, which will actually accept any reasonable shot. The terrain subsides somewhat over the following par 5 and downhill par 3, but picks up again around the turn. After another bunch of flatter, but also interesting holes, the last two are again of the death-defying sort that Harradine is famous for.

It's a very unusual rhythm to have the high excitement holes at the beginning, at the turn and at the end, because there is no build-up phase. Abrupt changes in adrenalin levels can feel jarring, but in this case it works remarkably well. At the end of the day it's also a function of the terrain, which is at its wildest around the clubhouse, where both 9 hole loops start and end.

A few critical points can be raised, though. Two par 3s are of the "driveable" sort for average hitters and that is one too many. A number of par 4s in the "slightly shorter than medium length" category could use some variation. Apart from that there's only the good stuff: a very generous layout with hardly any side-by-side holes, great soil that drains well and can play quite firm, appropriate fairway width and good green complexes. Tree encroachment is less of an issue than on most other tree-lined courses.

The routing is nothing short of amazing. Most of the non-golf related walking is between car park and clubhouse and the first tee. Once on the course, there's a continuous flow of holes and no backtracking to speak of. What's more, everything takes place in naturally beautiful surroundings and no traffic or other noise will disrupt the experience. The same goes for the atmosphere at the club, which has the same old-fashioned feel to it as the magnificent course.