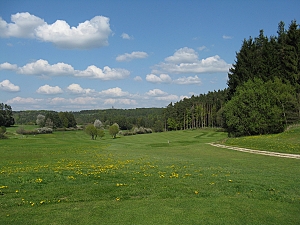 This course sits in the middle of the Franconian Switzerland region near the Tourist center of Pottenstein. The site's good mixture of gently rolling hills, woods and grassy plateaus is a downright joy to walk. The typical rock outcroppings of the Karst landscape are present throughout the course, but rarely come into play. The fairly wide fairways with the sparse bunkering and green complexes do the job while keeping a low profile.

It's a good thing that the flow of the course works quite well, because there is a lot of ground to cover over the generous property. The two back to back par 3s may be a routing glitch from a dramatic point of view, but other than that the holes are connected to good effect. So from a bird's eye view it should be a tremendous course.

Unfortunately the playing characteristics are not conducive to the qualities of the layout. It's a refined design that needs better lies in the fairways and faster greens to really shine. The soil appears to be very compact and perhaps too gravelly to support a thicker grass cover. Nothing speaks against rustic conditioning as such, but without a ground game in place it can easily turn into a liability.

Nevertheless, the scenery is beautiful and varied enough to attract attention and the golf, while not great, should be solid enough for most purposes.