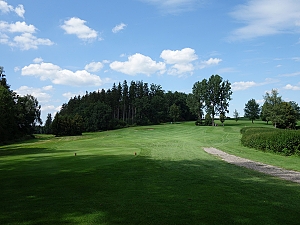 This largely flat course in a peaceful, rural setting with very distant and very occasional mountain views has 18 championship holes, a 9 hole executive course and a formidable culinary offering in the clubhouse. Longhitters will rejoice here, because they can go all-out on many holes and secure a real advantage when successful. Average hitters, on the other hand, will struggle to get home in regulation, even on some of the par 5s.

Due to the relatively benign terrain it was no problem to get a good routing down and, while not masterful, it certainly does the job. There are no annoying walks with the exception of the last hole, where a major walkback to the tee was instituted in a desperate attempt to create a stern finisher. The land's offer of a fun risk/reward short par 4 was declined for all the wrong reasons. But the rest of the course has a good flow to it and not a bad dose of variation.

The weakest point is the traditional bane of Southern Germany that effectively kills the third dimension: heavy soil. Undulations are diminished by a lack of firmness and ground game options rarely materialise. Nevertheless, the general impression is quite agreeable and it should often be possible to enjoy a Zen-like round here.