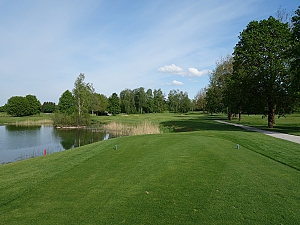 This course is located close to Munich and the club aims to be one of the leading venues in and around the Bavarian capital. The maintenance standards certainly reflect this philosophy and the 2012/2013 redesign by Thomas Himmel brought the quality of the green complexes up several notches. They are now the club's claim to fame on an otherwise fairly standard parkland layout. The design is thoughtful enough to provide a few twists on most holes, so it is definitely an interesting course, but high drama or especially quirky features aren't on offer.

Undoubtedly much is due to the location near a non-descript town and between industrial and agriculturual allotments. The entire course is fenced in by trees to hide all eye-sores, but that also makes it feel like an enclave that was disconnected from its surroundings. It's a world of its own, but golf-wise a competent track, especially for the short game lover. The undulated and quick greens rarely allow for standard chipping and a good putter will make progress on the true-rolling surfaces.

While not a revelation by any means, there is enough replay interest to keep the membership engaged and the club's quality standards and its location in the Metropolitan area certainly make it an upmarket draw.