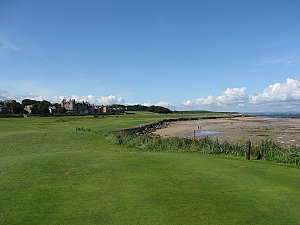 No one really knows how this links course came to be, the design credit mostly goes to God. Like the Old Course in St Andrews this is one of the great natural arenas of the game. The routing, however, is not a traditional out and back, it is a figure 8, thus ensuring that there is seaside play at various stages of the round. The views over the Firth of Forth with Bass Rock and Craigleith Island are exquisite and can be enjoyed from many holes.

The site itself is relatively flat and there are no large dunes, so a round at North Berwick is not a secluded, exploratory affair. The twists all come in on a somewhat smaller scale, but do not lack originality or long-term fascination. One specialty are the old stone walls, which can be even more penal than a water hazard. If the ball lies close enough to the wall, the golfer will have to declare it unplayable and two club lengths back may still not have much of a shot. On the other hand the walls can be avoided with some planning, so they definitely add to the strategic options.

Other obstacles, besides the occasonial beach, are bunkers (deep, demanding) and rough (managed in many places, but not all). The greens are generally accessible and undulated, but don't go overboard (huge exception: #16). Obviously, there is not much to be said about the turf and conditioning, the West Links are a venue of world class standing in every respect including that. Some people don't like #1 due to it being a short club off the tee and perhaps #8 and #12 are a little too subdued. But that is just about it for the nit-picker, the rest is nothing but net.

Like any great course, it lingers in the mind long after playing it. The craziest thought about it would be that it is missing out on the character that can only be conferred by glaring weaknesses. What a luxurious problem to have!