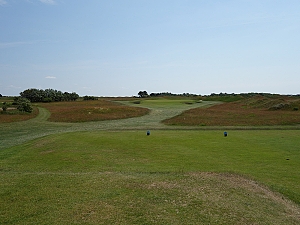 Although this course is relatively new, golf has been played on the site since 1953, when the Royal Air Force built six holes for the servicemen. Later on the German Navy took over and when they left the island of Sylt, the German golfers got together and bought the property. The Scottish golf architect Ken Moodie was commissioned to build an 18 hole links course, undoubtedly on a shoe-string budget. The result looks admirably like a links, but it is not on linksland and so it must fall in the category of faux links.

The golf itself is quite nice, although a little more quirk could have been inserted here or there. Flat courses often have a number of similar looking holes and in the absence of any larger landforms (be they trees or high dunes) this problem is exacerbated. The adjacent airport would certainly have been built elsewhere, if the land had any dramatic movements. That notwithstanding, it's a fun round without any glaring annoyances that distract from the pure playing of the game.

The pot bunkers are the most attractive part of the course and perhaps relying more on them for building strategic angles would have been the way to a more distinctive experience. As it is we are talking about a course in good nick, very playable and stress-free - great for holiday golf.