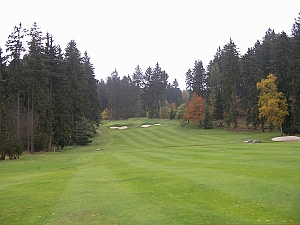 This is the oldest course in the Czech Republic and it carries the "Royal" moniker. Queen Elizabeth II bestowed it in 2003, proving that this title can actually be attained in modern times. There is a lot of "royalty history" here, starting with King Edward VII, who cut the ribbon on opening day.

However, the golf itself is not of the same calibre. The Scottish professional, who laid out the holes, wasn't a distinguished golf architect. It's not a bad course and certainly quite challenging, but it doesn't exactly sparkle with esprit, stun with scenery or baffle with quirks. It certainly would be a fine course most everywhere, but "Noblesse oblige".

That being said, it thankfully wasn't modernised with the exception of two holes that Bernhard von Limburger built in the Communist era - surely no small feat as it were. So it is still a good experience to play here, especially in the summer. The altitude of almost 800 meters and the many trees lining the fairways keep the heat in check. The downside is that the course can get soggy and members enjoy a relatively short golf season.