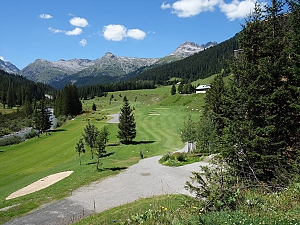 One of the youngest golf courses in the Alps and one of the most unlikely, too, as it was built on a very small site. The architect ran out of room after 7 holes and those were already pretty short to begin with. But what ended up getting built is quite impressive: not just a collection of 9 random holes, but a real miniature course with its own character. Magnificent mountain views, interesting and varied golf holes, extremely challenging shots over the whitewater river Lech - what more could a golfer want? Except perhaps more than 7 holes of it. And then there is the winter in the Arlberg region: snow, ice and more snow. For much of the year it's not the golfers, but the cross country skiers, who frequent the fairways. Considering the long and heavy snow cover, the course is in an amazing condition throughout the summer.

The one blemish on an otherwise very bright vest is the routing for the final two holes. While there theoretically is room to get back to the clubhouse with two decent holes, said property could not be acquired and so a makeshift solution had to be employed: an extremely short half-pitch par 3, then a long walk back and another short iron par 3 in front of the clubhouse. To Diethard Fahrenleitner's credit, he made the most of the very limiting situation and built two decent holes, while the club adorned the somewhat questionable half-pitch hole with colorful flower beds. The walk is not particularly jarring, but it is very long as it passes through the forest, over a parking lot and alongside a fishing pond to get to the final tee. And it has to be done twice in an 18 hole round.

On the other hand it is totally worth playing 18 holes, because some of the challenges are very unusual and it takes several replays to try out the different strategies. Overall it's a really fun track that puts a surprisingly large number of clubs in play. Despite the very restricted mountain site, it is also a very walkable course without any pronounced steepness. The Zuger valley is a car-free nature reserve and it starts right at the clubhouse. Great stuff, even if not a lot of it.