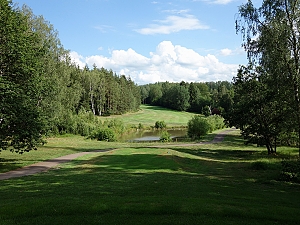 Founded in the Golden Age and relaunched in 1996 as a resort, this course still retains many of its original design features. First and foremost the two crossbunkers on 18 and 11 have to be mentioned, which offer practically no alternative to carrying them. That concept was already old-fashioned in the 1930s and is still eschewed by modern golf architecture, which makes it refreshingly innovative today. However, apart from those occasional throw-backs, the design remains firmly within the boundaries of classic elegance.

The first holes are a little disappointing, though. They play side by side up and down the same hill and are located close to a busy road that makes itself heard. Starting with the 8th hole the routing thankfully veers off into the terrain behind the clubhouse and from here on in the holes are full of character and more peaceful as well.

Conditioning is a little suspect. While the soil is not too bad, the playing surfaces could be a little smoother. It's still very playable and the greens are ok, but firm and fast is not going to happen here. The views are nice, but a little restricted due to the surrounding forest, which fortunately does not come into play all too often. So once the "road holes" are checked off, the golfer can look forward to a stretch of wonderful, classic golf architecture.