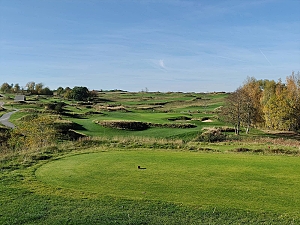 Much has been made about this "tale of two nines", whereby we have 9 old holes from the 1990s and 9 new "links style" holes designed by Christian Althaus two decades later. And it is true that there is a difference, especially visually, but it is not as large as some make it out to be - and certainly not as large as in Föhr, where Althaus has also built new holes alongside old ones. But here the terrain for the old loop is fairly undulating, so that even without any shaping a number of exciting holes came to be. The only flat and boring stretch is from 14 to 16, which is somewhat mitigated by the panoramic views afforded from the plateau location. The only unforgiveable crime is the walk from 16 to 17, which goes over good golfing ground that went unused.

The new holes - the front 9 in the current configuration - are without any flaws design-wise. They are all interesting with varied challenges and two superb par 3s. Even the non-linksy lake on the last hole is not much of a letdown, as it actually poses some strategic questions. The wild greens are rather difficult, so in order to get full marks from a discerning golfer, they should really be fescue and thereby a bit slower. Other courses with less budget have shown that this is possible in Germany, plus it would add a lot of credibility to the inland links angle.

The first view of the course, when driving over a ridge towards the small town of Herzogswalde is nothing short of breathtaking. It must be one of the best introductory views in all of golf, as everything is laid out on a hillside angled towards the approaching visitor. The second awe-inspiring sight is the clubhouse, which looks like it was imported from Abu Dhabi or Dubai, but somehow ducks into the land, as it sits on the lowest part of the property. And the course does not fail to deliver on the initial promise, it is really good right now and has considerable potential for future improvement.