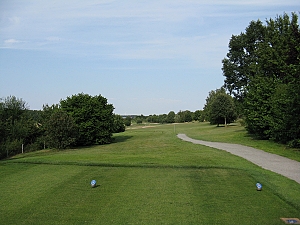 This course is in the middle of nowhere, but has surprisingly high standards for that. The undisturbed rural setting as well as its elevated plateau position make for a very agreeable experience. The site is modestly undulated, there is no steepness and just one or two narrow spots with hanging fairways. It's probably the ideal terrain for a walkable, but also intimate golf course. The only noticeable blemish in the routing is the walk from green 9 to tee 10, which ambles along the driving range, club house and parking lot.

The hole designs are not overly quirky, it's pretty straightforward stuff with only a handful of unusual features. But it does play well and the bunkering is very solid. No complaints about the smooth putting surfaces either, just that around the green things could be a little more interesting. It's a zero-defect design that takes no chances.

There is another 9 holer on site, whose holes are intermixed with those of the main course. This does perhaps detract a bit, but ultimately it's manageable.