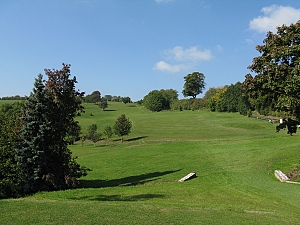 One of only a handful of low budget courses in Germany that were designed and built "in-house". Normally there would no reason to play here, but for some reason they managed to come up with a bunch of utterly fascinating holes.

The major weakness of the course is conditioning: they are not allowed to water, fertilise or mow a lot due to being located in a nature reserve. Consequently the greens are brick-hard and the fairways more like semi-rough on other courses. It feels and plays a bit like a Scottish Highlands course that nobody has ever heard of. The ground game is certainly alive and well.

Most holes are short and some are rather easy to score on, if one club less is taken into the greens. The ball will happily bounce on and stop on the slow putting surfaces. One-putts are common, all greens are small and many are flat. On the other hand a number of holes are excruciatingly hard, such as the 1st, 12th and 17th. And the rest are great risk/reward designs, where anything is possible.

Much fun to play, a very undulated and naturally beautiful site, but not for the faint at heart when it comes to fairness and maintenance standards. It's a whole different game here.