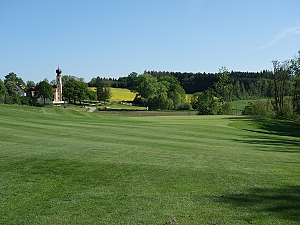 Two completely different 9 hole loops, one on each side of the clubhouse, comprise this rather adventurous course with many high- and lowlights. Most of the good stuff is on the front 9, which are the newer holes built by Götz Mecklenburg. While the general area is rather flat for Bavarian standards, there is one lone hill in the middle of it and that is where the golf course was built. In true Harradine fashion the natural undulations were used to produce a number of exciting holes and a rather good walk as well. The routing manages to negotiate the terrain very gently in order to keep climbing to a minimum and still create wide fairways and pleasing views. If only the holes were shorter and the greens not completely flat. As it is, the long bomber will thrive as well as the technically good putter - not a lot of imagination is required from either.

That story changes completely on the back nine, where a lot of imagination is required to keep up with the convoluted layout. Excessively long and artificially tricked up holes alternate with fillers that weren't given a lot of love and even necessitate hitting off mats at times. The terrain is just as great as on the other side of the clubhouse, but Harradine did not find the right balance between playability and drama. Holes like 13 and 15 are ridiculously long and penal, while 16 might have been a manageable par 5 at first, but a lake was built in front of the green that takes away all strategic options. Forced layups aren't especially popular among golfers and certainly not after two good shots on a par 5.

At the end of the day the terrain is really what makes this course special and there is a lot of potential still in it. If the routing on the back 9 and the greens on the front 9 could be improved, it might actually turn out to be a great course. As of now there is at least the one guarantee that a round at Erding-Grünbach will not be boring.