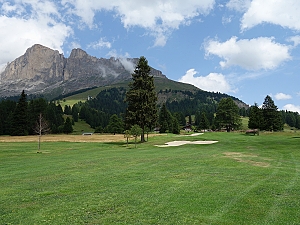 The Karerpass (Passo di Costalunga) is a high mountain pass in the Dolomites and, stunningly, golf has been played here for more than 100 years. The present course stems from the 1990s, but it is on the same site, which previously had featured up to 21 holes. The location is nothing short of jaw-dropping, as the pass is located right between two major Dolomite massifs, the Latemar and Rosengarten groups. Unfortunately other touristic activities have left their marks as well, so the scenery does suffer noticeably from various installations connected to the cable car and ski runs.

Incidentally, the course's nickname "Mountain Beast" is well-deserved. Playing the 9 holes twice equals a small Alpine hike, although it must be said that only holes 2, 5 and 8 are seriously uphill. The rest are either seriously downhill or, in the case of the two par 3s, more or less level. It's still a blistering walk and only very fit players will be able to hit their best shots here.

The holes themselves are not overly innovative, but the downhillers are fun and there are some interesting greens. On the whole the golf is not good enough to stand on its own, but the scenery certainly is. A round at Carezza will be unforgettable and the altitude allows for a refreshing game even when the sun is blazing.