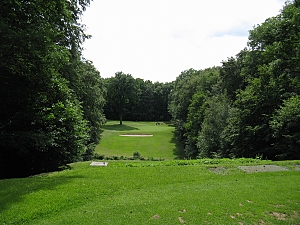 A classic course that could be very good, were it not for its inadequate soil and tree encroachment. The site is quite undulating and makes for good variety, while being suprisingly walkable. Holes 10 and 11 are a bit disconnected from the rest, owing to the placement of the clubhouse, but other than that the routing is fine.

There are plenty of old-style hole designs to enjoy, the whole place has an aura of quiet and charm. Unfortunately the soil is especially loamy, so playing this course in any kind of damp conditions makes it a downright slog. The other issue is that all holes except 10 and 11 are carved out of a forest, which has since grown in on the course and impedes play. On the other side it provides plenty of shade, so in the summer heat this is a great place to play.

The undulating terrain certainly would make for a great ground game and many holes look like they have been designed with exactly that in mind. But firm and fast will never happen here and that is probably a good thing: some holes would be downright unplayable with any kind of roll to the ball.