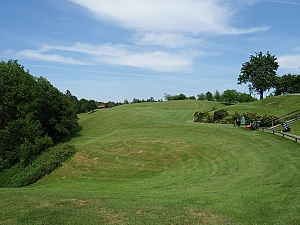 It is fairly unusual for a resort to feature an extremely undulated course, as there is not much of a cart culture in Germany. Lederbach is an exception to both rules and makes good use of a lone rugged hill in an otherwise rather gently rolling landscape. This is not to say that the routing is without self-made problems: 9, 10 and 13 are simply over the top brutal holes and the way that 17 and 18 tie together is ridiculous. But at least the overall flow is relatively organic, so that this is not just a collection of holes, but a real journey. Conditioning is rustic overall, but the greens are attended to, so that quality putting is possible (and required for a good score).

The first couple of holes are well-paced, with the 5th being the first really spectacular proposition. 6 and 7 are no less exciting and the 8th offers some respite before the infamous "heartbeat hill" takes centre stage at the 9th. From there to green 13 it's a literal battle with a number of unbelievable challenges. What follows is perhaps the best hole - definitely the best par 3 in the region - at #14. Things remain interesting right up to the final daftness of the sunken tee box at #18 and its excessively long, but only ten paces wide fairway. Why not put the practice area over there and instead play home from 17 green to the current chipping green in front of the clubhouse?

The architect Kurt Rossknecht has proved in the past that he can find routing solutions for difficult sites, so perhaps he simply wasn't allowed to build a short finisher here. Be that as it may, Lederbach is worth playing and there is a bit of strategy involved as well, but the whole course has this odd feeling of being not totally there. It's always risky to leave the meticulous detail work out and trust the terrain to stand on its own.