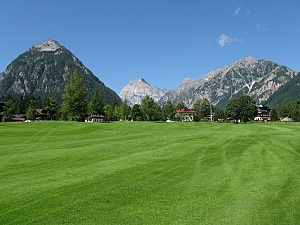 An exceedingly beautiful course in the Austrian Alps at an elevation of 1000 meters. Not a typical severe mountain site, it occupies an ideal spot between the lake and the foothills. The first 9 holes - with double greens - were built in 1995, the present course is a full 18 holer with good length and a relatively standard par 71.

It is quite some fun to play as well and has a number of interesting holes. There is a very wide creek bed, coming down from the mountains, that is utilised on two holes and a few rolling fairways and raised greensites. The opening and closing hole are in the village, which is a nice touch for starting and ending a round. The rest of the course is more or less tree-lined, but usually with limited density and enough room to play. Plus, the dreaded long par 4 deathmarch doesn't really factor here.

The variation in length among the par 3s isn't ideal, but individually they are all pretty good holes. As far as the short game goes, putting can be rather challenging and some of the approaches are actually quite firm. But at the end of the day it's location, location, location that makes this a really special place - with a tip of the hat to the very clever routing. As another reviewer put it, kneel-down-ingly beautiful, the Banff Springs of the Alps.