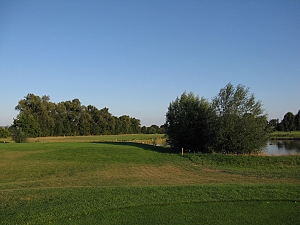 This is almost a gem, a rather quiet 9 holer in an otherwise pretty busy golf region. The river Rhine seperates the club from much of the action, few golfers go to the trouble and take the nearby ferry.

The layout isn't bad, unfortunately the surroundings aren't as peaceful as the bookings. There are a few eyesores in the form of industrial buildings and in good weather there can be some serious partying on both sides of the ferry, which is clearly audible on the course. A nearby marina provides all kinds of entertainment as well.

The club is saving up for an extension to 18 holes, so the maintenance budget is probably tight - too tight, as it were. But there is some golf to be played and when other places are full, this is a good option to get in a quick 9 holes.