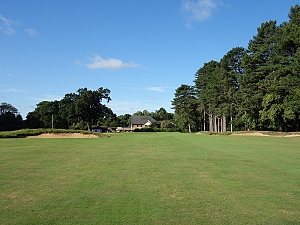 Woodhall Spa started out as a classic heathland track, but in more recent times was allowed to get hemmed in by trees. However, recent renovations have removed all trees that were near playing areas and this not only resulted in the heather coming back, but also restored the original views over the course. Such is the transformation that the Hotchkin must once again be considered a beacon of heathland courses, much purer than many of the usual suspects in the Surrey sand belt.

The defining element have always been the numerous, cavernous and voracious bunkers, although their notorious reputation may have grown a bit out of proportion over the years. The reality is that the traps are well-placed and costly, but neither peppered into senseless clusters, nor do they appear out of nowhere to gobble up good shots. More than anything they lend an advantage to the thinking golfer and knowledgeable member, who can take many out of play with little detriment to his or her chances of winning the hole. And even good sand players cannot be reckless, because the revitalised heather proliferates on the bunker edges, so there is always a slight chance of a horrible lie.

With the strategic bunkering in place, the turf restored to its former springiness and the greens brought back to their original sizes, all that is missing to contend at the very highest level is quirk and the third dimension. While there are a few undulated fairways, in general the terrain is flat and relatively predictable. However, the holes themselves are so varied that many different clubs and shot types are needed. Whether the course is hard enough for elite players may technically be an interesting question, but ultimately the recreational player first and foremost wants to have fun playing and that is certainly delivered here. The famous "Tower on the Moor" behind the third green - now cut free again - may just be a symbol, but hopefully it can stand tall over this delightful landscape and protect its heathland character for generations to come.