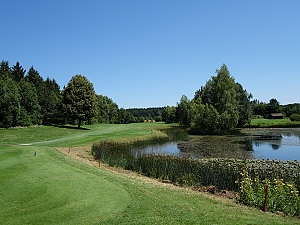 This high end club has all the amenities plus they can afford to pay a lot of attention to details, which becomes readily apparent on the golf course. Everything is manicured to perfection, but not to the point, where the course loses all naturalness and turns into a mere technicality. While the examination is fairly clinical, there are also enough playful aspects to create the necessary feel good factor for members.

The front nine are routed fantastically. There is little indication of the holes being actually very close together, so an air of intimacy prevails at any time. The back nine starts with the three signature holes that all feature large water hazards. The 10th is a very good hole with multiple strategies and the 11th and 12th are at least pretty to look at. So far, so good - but it appears that after those 13 holes the architect ran out of ideas and finished the course off in a rather heartless fashion. The round concludes with the botched dogleg 16th and two long, repetetive par 4s. These holes are also very open and routed side by side. Few of the clever shielding techniques employed on the front nine have been used here. Another detriment is the traffic noise that is audible on many holes, the course is closer to the highway than to the lake it is named after.

There are any number of redeeming factors as well, though. For one, the greens are unusually slick and in top shape. The entire facilities from the practice ground to the restaurant in the clubhouse are nothing short of high class. And they have an intriguing tee sheet system, where you can book a tee time only at the club and on the day of play. This guarantees that everyone has a fair chance to play and there are no slots taken by people, who then don't show up.