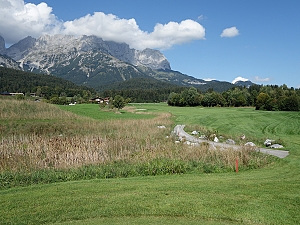 The "Wilder Kaiser" (Wild Emperor) is one of the most impressive Alpine massifs outside of the core Dolomites region. By virtue of its peripheral location the valleys are wide enough to accommodate regulation-sized golf courses and this is a prime example of a flattish 27 hole layout right at the foot of an assortment of legendary Alpine headwalls. The views are mind-blowing and completely overshadow anything the golf course has to offer. Which isn't necessarily a bad thing, because in this case it turns a relatively standard design into an outstanding golf experience. It would be nigh on impossible to build indifferent holes on this site.

Plus, the architecture is actually interesting in places and features a bit of strategy and uniqueness as well. The effortless flow connects everything perfectly, the shaping is nice enough and there appears to be a healthy maintenance budget. Unfortunately it does not seem to include attention to mowing lines, which is one of easiest and cheapest ways to improve a course's playability. Some observations: an inch off the fairway frequently carries the same penalty as being 10 yards offline. The fairway bunkers are inefficient, because they are fronted by heavy rough. Hazards, on the other hand, tend to have the iffy stuff behind them, which makes heroic carries pointless.

Nevertheless, the course is fun and neither too long for average hitters, nor unplayable for beginners or meaningless for the expert. While the resort village of Ellmau offers a number of spectacular mountain adventures, a round at the golf course is not to be scoffed at. The views are certainly extraordinary, even for Alpine standards.