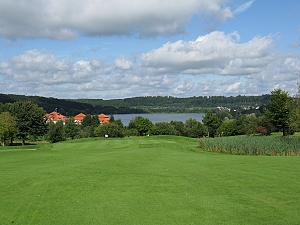 A small, but quite successful resort with a somewhat quirky and scenic 18 hole course. It plays up and down and along a hillside that falls towards the lake, so it's a keen walk. But with the exception of one expedition through the forest after hole 6, there is not too much distance between holes.

Due to the site's constraints most fairways have their narrow parts and there are one or two safety hotspots. As far as variety goes, there is perhaps an oversupply of short par 4s. However, a number of very long and reasonably wide holes did come off as well, so it's basically all at the expense of the medium-length par 4. Which, as might be argued, is the most expendable type of hole in a routing.

While pencil-and-card type of players may deem it too gimmicky and dependent on local knowledge, the recreational golfer will find it a welcome change from his usual routine. There is something special to do at almost every hole and those, who like to map out their strategies in advance, will definitely take to this course. Conditioning is fine, if a bit wet at times, the scenery is devoid of eye-sores and if the weather cooperates, it can be a magnificent place to play golf.