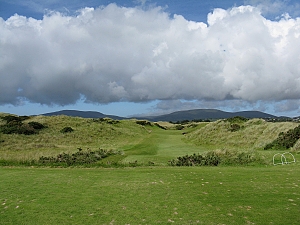 At first sight this course looks fairly unassuming in the way it lies on a relatively inconspicuous tract of land. But in reality it is a peninsula surrounded by water on three sides with some nice dunes on the promontory. So make no mistake, this is a grown-up links course, which may on the whole be relatively flat, but doesn't play that way at all. There are more than enough internal undulations to make proceedings interesting. And while Waterville does have its share of sea views, the real story is that it could be the only links course in the world that is surrounded by a ring of mountains.

The first hole is famously called "Last easy" and is a straightforward opener, but the second and third are already part of the highlight reel. Both bring the ocean in play and they are followed by the superb 4th, which might be the best par 3 on the course. Thus the previously somewhat subdued front 9 has been beefed up considerably by Tom Fazio. More strong holes and one or two breathers follow and after the turn the mass hole (#12) marks another peak in quality. Finally, the run home from #15 is the most exciting stretch, which gives the course an almost ideal ebb and flow.

The turf has in the past been criticised as too soft and a massive fescue reclamation process has caused a few disruptions, but as of today the effort seems to have paid off: there's no chipping at Waterville anymore. The putter is the go-to club around the closely shaved green complexes and the course plays beautifully firm - although on the west coast there's generally too much rain to allow a real browning out of the fairways. Thus, with the markedly improved front 9, the great conditioning throughout and the harmonious cadence of holes this may be the best balanced links course in Ireland.