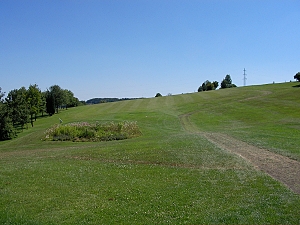 This course is set in the Siebengebirge, an area of seven hills, or, as the locals say, mountains. Not surprisingly Donald Harradine, a specialist for undulated sites, was commissioned for the first 9 holes and Rainer Preißmann finished the course in a similar style 12 years on.

As could be expected on such a site, there is hardly a level lie to be found and some blindness must be dealt with. Also, green-to-tee walks can be quite long, especially when going to or coming from the new holes. They are on the other side of the village, which accordingly has to be traversed twice. Although there are no extremely steep drop-offs, the constant up and down makes this course as hard to walk over 18 holes as one in the mountains, so some players are probably better off taking a cart.

It's a nice enough course and the scenery is quite lovely, but it's not a must-play in the sense that it would have something that can't be experienced elsewhere. For many golfers the views and the architecture won't be spectacular enough to warrant the strenuous walk.