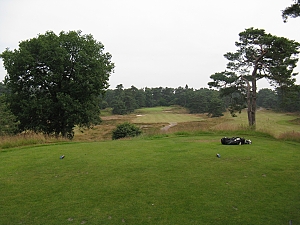 It's not easy to label De Pan, perhaps "heathland course without heather" comes somewhat close. The playing characteristics are certainly those of a heathland course, what with its sandy soil, rippled fairways and linksy greens. The vegetation, however, is normal rough and trees all around, some of which will encroach on the playing areas as well. A responsible tree management programme could go a long way here, although it has to be said that the situation is still far from alarming.

De Pan is not the longest course, but the yardages are well balanced, thus creating a variable layout with long-term interest. Unfortunately the first couple of holes are a bit unimaginative, they basically play straightaway through tree-lined corridors. Despite the ever-present fairway contours the first four holes are a bit of a yawner. The fifth has some interest through a strategic tree guarding the corner of a dogleg, the sixth is the famous double-blind par 4 and there's no letting up after that.

The site, despite its internal micro-undulations, is largely flat and eminently walkable. Of course the general flatness also holds the course back a bit, as does the slowish start. Still, it's a classic Colt inland design and playing conditions are from the top drawer.