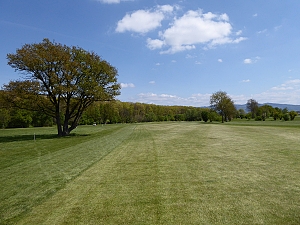 This project was realised on former strawberry fields and as such it is a flat, rectangular site bordered by a somewhat noisy state road. The distant views of the Black Forest are nice, but other than that there isn't really much to look at. There is no visual seperation between the holes, one fairway is laid out next to the other, so the third dimension is definitely missing here.

The defenses are primarily the rough and the occasional tree, there are a few ponds and some rather mellow bunkers. Going down the middle is always the best strategy, as it will avoid all trouble and leave the player with a straightforward path to the green. A number of internal Out of Bounds areas had to be introduced in the interest of safety.

Conditioning is actually pretty good for such an ordinary course and the greens could be quite entertaining, had they any undulations or other ways to create interest.