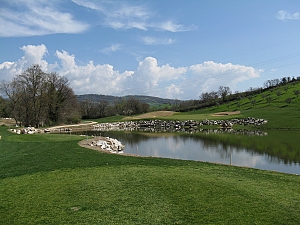 Despite the mellow resort setting in the beautiful Tuscan countryside this course is actually quite a monster. One has to wonder about the rationale behind building such a devilishly difficult track in a resort that, it has to be said, caters to the wealthier part of the population. The hole designs are mostly well thought-out and innovative, but at the same time completely unforgiving. While for the most part the course is not penal in the strict sense, since it does offer strategic options, it certainly is apt to create frustration no matter which route the player takes. Not many golfers will appreciate having to chip or pitch after a straight drive, because their best effort wasn't long enough to reach the one position, from which play can sensibly continue. The philosophy of "easy bogey - hard par" is carried to an extreme here, where bogey is never easy and as the round wears on, intimidation instead of encouragement sets in.

This is a really unfortunate situation, because the site is absolutely wonderful and would have made for a fun-filled, walkable resort course with enough sting from the back markers. As it is, the sting is there for everyone, especially on the treacherous greens. Holing putts from any distance is a challenge and very few greens are open in front - effectively robbing shorter hitters of the aggressive option. The bunkering is not purely decorative either, they are real traps that can quickly assert themselves on the scorecard.

The constant mental challenge paired with some strenous green to tee walks make this innocent looking course a real beast and perhaps more than the average resort guest bargained for. The upsides are a beautiful setting with some stunning visuals, the technically sound construction, the general remoteness and peaceful atmosphere and a surprisingly large number of quirks that are unique to this course. Satúrnia could be rated much higher, it is very obviously a quality project, but overly ambitious and in its relentless attack on the player's serenity, it fails to create flow. Probably a work of art in being highly reminiscent of the Pete Dye style, but in a rather dubious way.