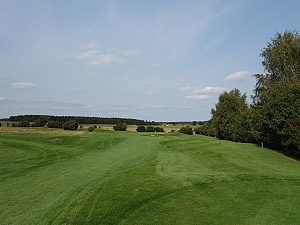 This course is fairly rural and gives no indication of its proximity to the major population centres of Augsburg and Munich. From the clubhouse it appears a bit cramped, but the property opens up beautifully after the first hole and much of the course plays on higher ground with pleasing views. The site does have its limitations, for example the first seven holes all have out of bounds areas to the right and there is some heavy rough to avoid. On the plus side, there are no tree-lined holes, so the fairways are allowed to flow naturally and playability rarely suffers from narrowness.

The card shows a number of shortish par 4s and those are all fun to play, if perhaps a little too easy in one or two places. Which cannot be said for the longer par 4s and the par 5s, which exhibit quite a bit of variation. In all, despite the somewhat basic looks, a round at Tegernbach is never boring and most holes have their own character. The set of par 3s is strong and the final four holes are worthy match deciders. Case in point: the short par 5 17th. After a good drive the green will be in range for many, but only masterful players can hope to pull it off. The semi-good players will have to lay up alongside the higher handicappers and stipulate that they're entitled to an easier shot after their longer drive - such complaints being a clear indicator for a well-designed hole.

For such an unassuming course the greens are quite large and somewhat undulated as well. Together with a couple of surprisingly effective greenside pits they create a bit of short game interest, although the emphasis is still on solid driving and iron play. It's a fun and light-hearted track that wisely does not try to punch above its weight.