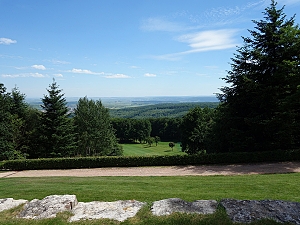 Although there is a hotel connected to the course, which should have a positive effect on upkeep, the entire operation appears to be underfunded and of questionable sustainability. It starts with the site that is hardly conducive to an 18 hole golf course. Even though it is just a par 69 with many short holes, it still had to be patched together over several discontiguous plots. The routing of the last three holes is a veritable clunker, because it takes the player past the hotel and past the parking lot to an entirely different strip of land that flanks the entrance road. Many golfers, when walking past their car, will ponder packing it in right there.

On top of the dubious site sits a dubious collection of holes. Four of the seven par 3s are virtually identical and the longer holes are all tree-lined. The absolute minimum of drainage and irrigation was put in and hardly any shaping was done, which would ordinarily at least create a natural appearance. However, in this case the routing actually manages to appear contrived and uncharitable. Thanks to holes like the 12th, where the architect turned a short par 4 into a three-shotter by making clever use of an adjoining paddock.

Despite the predominant forest, there are some openings with long views that do justice to the general beauty of the area. However, around the golf course there's a lot to be seen of the hotel and other residential units.