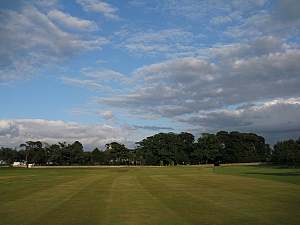 This is more or less a practice course doubling as a confidence booster for better players in search of their swing. The fairways are flat and wide, there are hardly any bunkers and even at its longest the Strathtyrum is rather short. That being said it is also the most affordable 18 holer at St Andrews and clearly a decent amount of work is put into it on part of the Links Trust.

Although the land used to be agricultural, it has been sand-capped and turned into a real links surface over time. The green complexes are already worthy. While they may be a little slower than on the bigger courses, they are still plenty fast and the pronounced undulations will give everyone fits. Their surrounds are kept properly, so it is possible to putt from a long distance away, just as one would expect in St Andrews.

If only the course weren't so dull off the tee, but perhaps that would defeat its stated purpose. Still, for many visitors, who have never played a proper links, a more interesting Strathtyrum could be a viable alternative and not just a means to get into the groove.