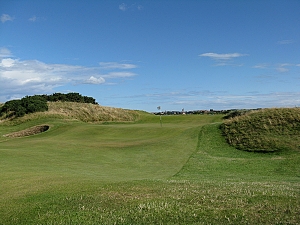 Naturally, the Eden is often overlooked next to the Old, New and Jubilee, although it has the most accomplished architect of all courses in St Andrews. The Links Trust hasn't treated it well either, ploughing up large parts of the back 9 to make room for practice facilities, Open Championship tenting and the occasional new tee for the adjacent Old Course. The new additions (a rather unpopular pond!) and redesigned holes are no adequate replacement for Colt's design.

The front 9 is still intact and it's one of the best stretches of holes in St Andrews. The first four holes are all par 4s, but span the entire range of variability: a drive and pitch, a long and straight brute, a dogleg right and finally a driveable risk/reward shorty. And then comes the all-world fifth, a short par 3 to a devilishly undulated green with a spectacular view of St Andrews in the distance.

Suffice it to say that the rest of the front 9 is equally good and the back 9 at least starts out decently. The original Colt course could well be the clear #2 in St Andrews and even today's Eden is fun while it lasts. It retains some of the playfulness that the big championship courses have long lost. Everything that can be expected of a classic links is there - just not enough of it anymore. But it is still much more than the "afternoon diversion" it is sold for these days.