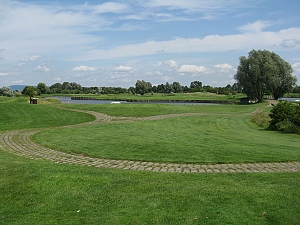 The slightly younger of two former European Tour courses (Tiger Woods won here once) at one of Germany's leading clubs was given to international name Dave Thomas. Local hero Hannes Schreiner, who designed the first course, was reduced to the role of advisor. And yet the result is less impressive than the first take, which wasn't exactly a world-beater to begin with.

Granted, the site is flat and surrounded by industrial estates and agriculture, so almost every feature had to be created from scratch. On the other hand the money was certainly available with one of the SAP founders behind the whole project. Pete Dye would have gone wild with it, but Thomas was apparently content to build another American style Tour venue. That notwithstanding, the club sells it as reminiscent of a Scottish or Irish links.

The most interesting holes tend to be the ones played over water, which is certainly legitimate, but also a sign of little creativity. The bunkering is generally less than fearsome and the elaborate mounding more glitter than gold. Coupled with relatively flat greens, quick as they may be, the entire burden for making it difficult is placed on the sheer length of the layout.

However, golfers appreciating technically faultless construction and perfect presentation, will not find this course lacking. As a level playing field for the sport of golf and perhaps a place to feel a little like a high-roller, this one ticks all the boxes. The game of golf with its connection to nature is not the first priority here.