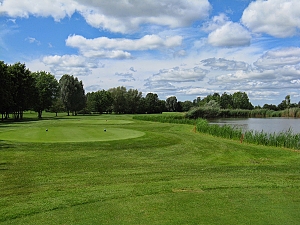 This is the first of two former European Tour courses (Tiger Woods won here twice) at one of Germany's leading clubs. It was designed by local hero Hannes Schreiner, who started a regional career after this assignment. Some of his holes are pretty engaging, but, inexplicably, a lot of others are relatively bland.

The front 9 is the better part of the course, it has most of the good holes and an intimate routing. That wasn't easy, because the holes of both courses are interspersed, so there is a lot of criss-crossing going on. But the architect managed to create some nice green-to-tee connections and used out of play vegetation for shielding against adjacent fairways. There's one exception, a disappointing backtracker on #5 - no excuse for such a stunt on an abundant and featureless site.

The back 9 is more open, only two greens are protected by a pond (five on the front), but that is actually a disadvantage here. Some of the intimacy is lost, while the additional width isn't used to create strategic options. In all, there is little to get emotional about, although the technical qualities are undeniable.

As can be expected from such a renowned operation, maintenance standards and service are impeccable. Undoubtedly, golfers looking for a high end pampering in a friendly atmosphere will rejoice. Those who are after a more natural experience will likely spend their money elsewhere. As will those on a budget.