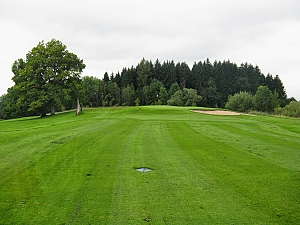 The location of this course is a mixed blessing. On one hand there are nice Alpine views from the clubhouse (weather permitting) and some parts of the course. On the other hand the entire region is mostly fenland, which makes for very wet turf. This course would be a joy to play in firm and fast conditions, because most holes are very wide and the moderate undulations and raised greens would make for a cool ground game. However, even in the best of conditions there is very little roll on the ball and in questionable weather the course plays exceedingly long, so a number of clubs will not be used at all.

The routing is quite harmonious, two loops of nine holes that have an expansive feel to them, although a few holes are in need of tree management. A few water hazards come into play as well, but there is nothing artificial about them, as the course is nicely matured and grown-in. On almost every hole there is something going on, but not overly much. This can be viewed as beautifully restrained or, alternatively, not fully committed.

Conditioning is pretty good though, as far as turf and lack of installed drainage will allow. The greens usually have a good pace and roll true. Good putters will make their share, because they aren't especially tricky to read. The best feature of the course is its peaceful setting. There is no traffic noise and no industrial activities or buildings interfere with the softly rolling natural landscape. Unfortunately, without a ground game and little propensity for crisply struck iron shots, the course lacks some important components of the total golfing experience.