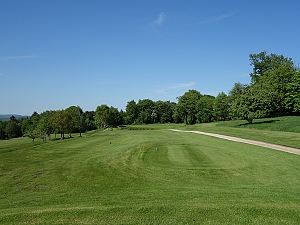 This beautiful course is situated on a high plateau with great views all around. Despite its altitude (about 500 meters) it is only moderately undulated and consequently rather easy to walk.

The front 9 are routed through a forest and can be very tricky and occasionally penal. But there are definitely some unusual designs to be found and the scenery adds to the quaintness. The back 9 are more open and the holes stretch out longer, thus emphasising the wide views from the plateau.

It's not out of this world, but there's certainly nothing average about the course either. The routing flows naturally and there is great variety, but none of it forced onto the land. It's in a fairly remote location, too, so traffic noise, overcrowding and other modern disturbances are not an issue. A recent lengthening has turned this previously fun-oriented course into a stiff test and introduced a bit of sameness on the back 9.