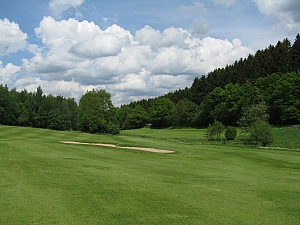 This course is only moderately undulated, which is not the norm in this rather hilly region. From the clubhouse it even looks pretty flat and almost uninteresting. However, that changes after the first hole, when a traversal is made to another part of the site. The routing only returns for the final four holes, so it is a big loop with a few connector walks, but overall an acceptable journey.

Variety is pretty good, most holes have an interesting twist and the terrain changes between structured fields, woodland holes and wide open country with views. It's all quite natural looking with the exception of the self-proclaimed signature hole, an instance of the inevitable "par 3 over pond" template. While it's a standard par 72 layout, there are three par 5s on the front 9 and three par 3s on the back and no returning nines, which does show a willingness to tread lightly on the land.

It's hard to find a fault with this well-balanced layout that will certainly not offend anyone, while still avoiding the formulaic approach of supposedly tried and true standards. Everything is above average, even if only a bit.