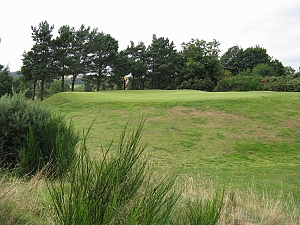 The club is rather ancient, but the present course dates from the Golden Age and, while perhaps not one of Braid's best, is absolutely worth playing. While the site is generally flat, the wavy terrain makes for many charming and some brutal holes. While some severities stand out (how to hit the fairway on #7 or the green on #4?), there are also enough straightforward holes to satisfy the score keeping golfer.

The holes are routed mostly through heathland, although at one point and completely out of nowhere a parklandish stretch pops up. Since there are also a few linksy elements, the course can be said to provide quite a unique mixture of styles. There is also a newly-built pond, but the club was sensible enough to put it more or less out of play. Bunkering is relatively sparse and only occasionally severe, on most holes the ground contours and green complexes determine the strategy.

The only downside of the layout is that the last two and a half holes are a bit bland, it would have been more exciting to end the round with some thrills equal to the ones found on the front 9. But between the playing and putting surfaces and the beautiful surroundings Scotscraig is nevertheless good, old-fashioned fun.