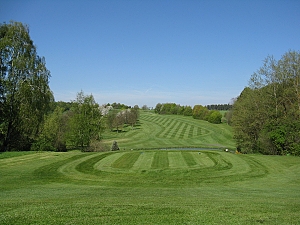 Schwanhof is a lavishly presented course that adheres to very high maintenance standards and has been the site of minor professional events. Contrary to some other "Tour caliber" courses this one is actually fun to play for average hitters, perhaps with the exception of the 18th hole. But there is plenty of interest in the first 17.

The layout is set out on both sides of the access road with a tunnel connecting the front and back 9. That passage constitutes a blemish in the routing, because it necessitates a long uphill walk to the 9th tee and another long walk from green 9 back through the tunnel to tee 10. Other than that the flow is fine and walkability not compromised. It must be noted, though, that the site is tougher to navigate than it appears, despite the absence of any steepness.

The expansive feel of the course is facilitated by generous fairways and trees that are set well back of them. At no point does tightness assert itself on the golfer's mind, even though some very exacting shots have to be played. The challenge continues on the very slick greens, where the surface rolls true, but micro-undulations can take a putt offline in a hurry.

While there is no greatness to sample and nothing particularly unique to observe, the designers must be commended for providing an all-around good course that is fun to play and does not repeat itself. Probably an ideal club to be a member of.