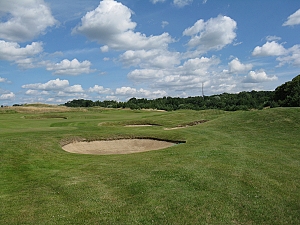 This is a big championship course, which was part of the German Ryder Cup bid and hosted other professional events in the past. Day to day it fulfills flagship duties for the 63 hole resort Scharmützelsee near Berlin. It's not the most popular course at the resort, though, that accolade belongs to the more playful and visually attractive Arnold Palmer course. The Faldo was never meant to be pretty, it was supposed to model an austere Scottish links.

Parts of the bunkering, the burn and some micro-undulations, as well as the lack of trees and ponds do constitute an admirable effort at looking linksy. However, the playing characteristics are those of target golf, there is no ground game to speak of and the rough isn't especially wispy either. Bomb and gouge will work here, putting from 80 yards out or any other type of links shot won't. Other inland courses associated with the Nick Faldo organisation, such as Chart Hills, do succeed in presenting firm and fast conditions, but the soil at Scharmützelsee is simply not conducive to that.

The design of the holes is ok, nothing spectacular, but no nuisances either. Walkability is great, not counting the pre-round journey from the car to the office, back to the car and across the parking lot and the access road to the first tee. The course is fairly long and lacks the entire categories of "driveable par 4" and "par 3 tiddler". To be fair, there are enough medium-length holes that can entertain a bogey player. But except for the Faldo name and perhaps the bunkering there isn't anything unique here that would justify a triple-digit greenfee. Nevertheless, it's a competent layout and maintenance standards are fairly high.