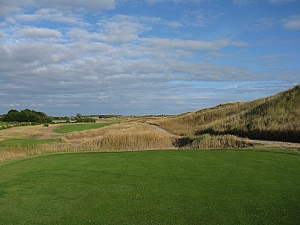 One of the most historically significant links courses, because Harry Colt started his career as a golf architect right here at Rye. Today's course has been changed a couple of times since then, mostly to get away from a road that had become ever busier. But it still exudes that old style charm of a private members' club that was instated before conventional wisdom and commercial realities set in.

It is a rather quirky course and doesn't shy away from positions untenable in modern times, such as driving over the previous green or having only one par 5 and a double dogleg par 4. Defenses, as on most traditional links courses, are provided by bunkers of the deep pot variety and by wind, which usually comes as a crosswind here. The fairways play firm and fast, the links greens are untroubled by pitchmarks and the rough ranges from wispy to portly.

The course is held back a bit by its lack of par 5s, which are always a staple of an average golfer's scoring plan. That being said, there is astonishing variety in the many par 4s, only two or three are even remotely similar. It's a bit different with the par 3s, neither Colt, nor Simpson or Campbell found a short one in five tries. Still, that is complaining on a very high level, at least three of the one-shotters are world class.

Even though the dunesland is first rate, the routing cannot disguise the fact that much of the course has been moved around to get away from the road and other undesirable golfing ground. It is not a case of finding the best 18 holes in a given stretch of linksland, but more a function of additional land becoming available over time. There is even an additional 9 hole course built in land, parts of which would certainly make sense to add to the Old Course for more breathing room.

All those idiosyncrasies aside, it's a magical place that would never be built like that today, full of character, tradition and good will. Perhaps somewhat bewildering to a first time visitor, but certainly an experience larger than the sum of its parts.