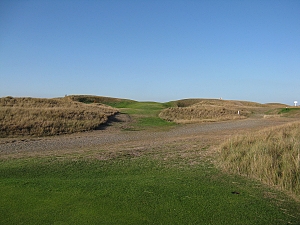 Everything about this course is either big or huge. It starts with the site that can comfortably hold an Open Championship or two and still has room to lengthen some of the holes, which hopefullly won't become necessary in the future. The layout is arranged in one big loop, so, with the exception of the 9th and 10th fairways, no two holes are running parallel to each other. The par 3s all play in different directions, making the most of whichever wind conditions prevail on any given day.

Because of the vastness of the site and the grand dunescape that hides other groups on the course, the golfer will at many points feel he has it all to himself. Even though it is a true championship venue and some of the more playful aspects have been mercilessly purged (most notably by Frank Pennink in 1975), it arguably still is the most natural course in the Open rotation. And this roughness will not only excite visually, it will also take a bite out of a player's scorecard, no matter which tees he chooses to play.

Sandwich, as it is affectionately called by the locals, is a great driving course; the challenges and strategies off the tee are plenty. The short, but straight player will have many an internal chuckle as his long hitting opponent loses shot after shot in the hellish traps. Positioning is paramount on some of the crumpled fairways, but the green complexes are where it really gets interesting for everyone. None of them are downright wacky, that wouldn't be allowed on an Open course, but all of them are fully undulated and extremely hard to find.

In short, looking at any random part of the course, there will be high quality oozing out of every pore. None of the holes are weak and none of them stand out particularly - or, in other words, they are all world class holes. There is just one drawback: it actually is possible to not have a great deal of fun here. Number one, playing from the wrong set of tees and wanting to post a score. Number two, looking for a relaxing round of holiday golf. Number three, expecting a wild and crazy ride with quirky, short holes and lost balls galore. It is a stern championship test and it will provide a sensible amount of drama, but it cannot be everything to everyone. The best way to have fun under any circumstances is match play and Royal St. George's will absolutely shine in that format.