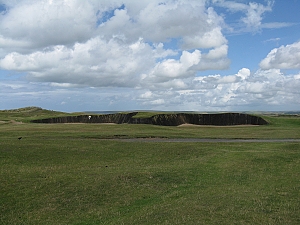 The oldest golf course in England presents itself much like it did in its infancy. The roughness of 19th century golf has absolutely been preserved, perhaps with the exception of the putting surfaces, which are maintained as flawless links greens.

Then as now golfers share the course with grazing animals and other dunesland users. The turf is not the best as far as links standards go, but still superior to any clay-based offerings.

Strategically, the stretch from 4 (Cape bunker) to 10 (Sea Rushes) is superb, whereas before and after some overly flat holes fill out the round. The lead-up to 4 and the gear-down after 10 accentuate the flow and the final two holes aren't half bad either. All in all it's not only a historically significant links course, but also very playable today.