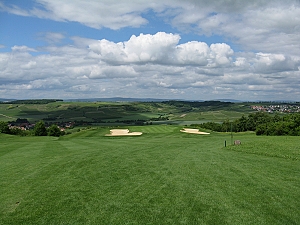 This is a course situated on top of a picturesque hill in the middle of a renowned wine region. Naturally, the site offers fantastic views, even if it front-loads them a bit. However, the routing is very clever, it provides a number of spectacular downhill holes and keeps the corresponding uphill passages quite manageable. The back nine is more gently undulated, but just as interesting to play.

While most holes do not necessarily favor the ground game and the rough can be penal in places, there is always enough room to play strategically. Many holes have distinctive features or hazards that create various options. The wind can be a factor as well on this rather exposed plateau.

All told this is a mighty fine layout in a super location. The atmosphere is certainly classy, but not over the top and the maintenance practices are absolutely appropriate. Instead of being manicured to death like some other supposedly high-end venues, this one retains a decidedly natural flair. A little more attention to details could make it even better, but the essential qualities are all there. Overlooked by many self-appointed experts, but great fun for the clear-sighted golfer.