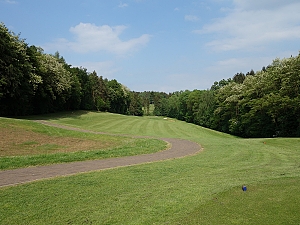 This course is American in the best sense of the word. Not only because it is run by the US military, but also because of the way it is designed and maintained. It offers a glimpse of how Augusta National might have played in its formative years. The wooded site is quite undulated and plays very firm from tee to green with some ground game opportunities. Most of the collars and surrounds are cut relatively short, although not to fairway height.

The routing succeeds on several fronts. First, it provides a great mixture of long and short holes, of narrow and wide fairways and the best green sites were reserved for the par 3s. Second, despite the hilly property there appear to be way more downhill than uphill passages. Of course this is an illusion, since the course starts and ends at the highest point with the clubhouse, but the way that "uphill struggles" are largely avoided here is exemplary. And finally, the layout is pretty flexible in length and from the members' tee most holes are in range for average hitters. Longhitters have a few opportunities to cut doglegs and bomb the occasional driver. The par 5s are mostly reachable in two, but other than that short and accurate players can easily stand their ground. Especially when they're good putters, because even solid ballstrikers will struggle to create enough spin on the very firm and undulated greens.

As for any tree-lined course, there will be balls in the woods and of course tree management is a constant challenge. That being said, the greenkeeping team is on it and mitigates the problem as comprehensively as possible. Despite a number of hanging fairways a good shot will not disappear in the forest and a bad shot is often retrievable. While memorability is not usually the strong point of tree-lined courses, here we have a very distinctive design with a minimum of repetetive shots. Fans of quirky tracks will love it, perhaps for different reasons, but just as much as competetive players.