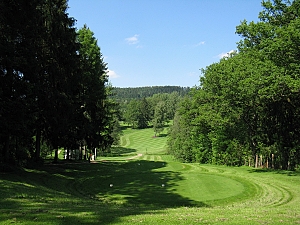 Golfclub Regensburg (or Thiergarten, as it is sometimes called after the forest it is situated in) has class written all over it. The patio must be one of the most stylish 19th holes anywhere and inside the manor-turned-clubhouse it smells authentically royal and ancient.

The course matches the whole atmosphere, even though it is set on a very severe site. The front 9 plays down the hill and then in terrasses back up to the clubhouse - this is a good solution, as it keeps the climbs manageable. The back 9, however, tries to create too much drama at the expense of rhythm: it is an uphill struggle all the way in from the 15th tee. Not a good idea after the player has already had to cope with considerable undulations all day long.

Despite this shortcoming the routing is very good at keeping the golfer on his toes, while at the same time instilling a sense of natural beauty and tranquility. There is no fault to be found with the individual holes, they are all interesting and some are downright spectacular. But a routing is more than the sum of the holes and in this case it creates some tediousness at the end. Still, it's a very good experience, certainly one of the best in Germany.